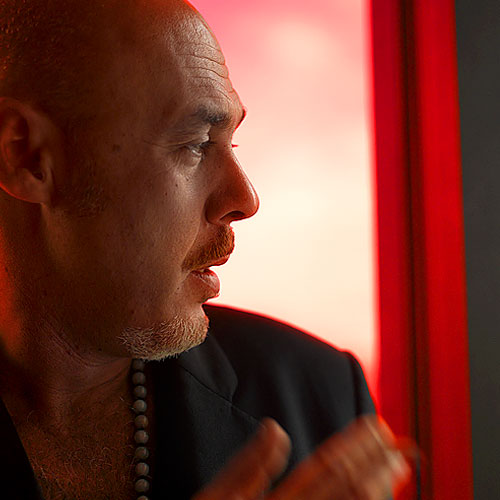 Working with one of the most elusive and often underappreciated elements – light – Thierry Dreyfus is more than just a glorified electrician.
According to Suzy Menkes from the
International Herald Tribune,
"Thierry Dreyfus is the man who is making the City of Light live up to its name. The designer is the master of the soft glow, bright beams and laser lines. Dreyfus may be an artist with light, but he is too modest to give himself that title or to compare himself with conceptual neon experimenters of the 1980s and with the light installations of the American artist James Turrell".
Yet, the illumination of the reopening of the
Grand Palais
(2005) spoke for itself, ranging like a rainbow through a series of luminous emotions. "I had to make people dream", he adds. And he did bedazzle over 500 000 visitors.
Art director and artist since 1985, Thierry Dreyfus has creating unique and memorable atmospheres for the fashion industry. Co-produced exclusively with Eyesight – a Paris-based company – he has expanded the boundaries of runway modernity through custom design light-scenography. Over the years, shows have ranged from
Dior Homme
, Helmut Lang, Calvin Klein, Ann Demeulemeester, Sonia Rykiel, Chloé, Marni and Jil Sander to
Yves Saint Laurent
's retrospective "Haute couture" show.
Whatever the industry or the nature of the commission, Thierry Dreyfus tells stories with light. He turns this intangible skin into a form of inspiration and desire, a vibrant body that becomes a mirror onto which you can project yourself, a volume, a space on in its own right.
Each of his installations is conceived to create a specific perception of the place and its environment. He sets up interactive playgrounds where light becomes a medium for dialogue between the architecture and the viewer. Thierry Dreyfus envisions fields of experience or visual landmarks as guides to drive and enlighten one's vision.
Thierry Dreyfus got his first taste of lighting in theater and Opera, and since gone on to develop his own artistic mise en scène : after designing light installations for the 2000
Lyon Biennale
and working on a commission for the
Caisse des Dépôts
et Consignations, he lit up the
Grand Palais
for its reopening (2005). In 2006, he imagined lights of fire in the water basins of the
Château de Versailles
, then staged an 80m high Ladder at the
Bibliothèque Nationale de France
for La Nuit Blanche, before he was commissioned by Starwood to imagine specific and contextual light installations for the façades of Le Méridien in
Shanghai
and San Francisco. In Shanghai, a red beam, a clear symbol of power on the rooftop, vibrated like a beating heart while in
San Francisco
, colourful panels and filters were applied onto the windows to give another dimension to the city from within the rooms, and to make the façade at night, live on an organic rhythm at night.
Rich and creative, 2008, 2009 and 2010 followed with the same momentum : first, came a State commission for a luminous monolith for the Conseil d'Etat's listed 18th Century 'Salle des Conflits'. Soon after, Thierry Dreyfus unveiled a permanent installation for the façade of '2 Fashion House Hotel' in the centre of Athens, and designed stained-glass windows for the Soeur Theresa Chapel in Crépy en Valois. Right after, Atelier Thierry Dreyfus reached new heights. First, it won London's Canary Wharf international competition to turn the former harbour into a prestigious, luminous landmark, then the Atelier finished second in the bid to light-up the Eiffel Tower for its 120th anniversary. In October the same year, Thierry Dreyfus invested Notre Dame de Paris's Cathedral for the 'Nuit Blanche 2010' : "I wanted it to breathe" was his first thought for creating this site-specific installation. Overnight, some 50 000 visitors discovered Notre Dame plunged in darkness on the outside, 'breathing lights and colours' on the inside.
In parallel to art installations, Thierry Dreyfus also creates
"elements of light"
, that range from prototypes of lamps filled with salt-crystals or square-section neon tubes. Shown, by appointment only, they are a collector's dream. Some were even exhibited, like "Nuage I" - a suspension composed of 200 concrete cubes hanging in the air – on the stand of Carpenters Workshop Gallery in Design Miami / Basel in June 2009. This first masterpiece was transformed a few months later into an installation (composed of a draught of 800 concrete cubes floating in the air) for the Design High exhibition staged at the Louise Blouin Foundation, London. The following year, during Art Basel, Thierry Dreyfus unveiled his "Hommage ♂" table : spotted by Pierre Gandini, head of FLOS, it was soon transformed into a luminous crack named "Wall Rupture", and launched during Euroluce 2011.
Thierry Dreyfus also takes part in exhibitions that vary in content and
nature : a first C-Print photo exhibition called
"absence-présence"
was shown at Parisian Galerie Samuel in 2009 before 35 original prints, commissioned by Hervé Mikaeloff, joined the private collection of luxury hotel Royal Monceau. End 2010, Thierry Dreyfus staged mirrors and prints, light installations and objects for his first solo show at the Invisible Dog Art Center, Brooklyn. An exhibition that led to another one, in Singapore this time, for Art Plural Gallery : in situ, many Objects of Light and airy suspensions were displayed. Collaborating with visionary minds, Thierry Dreyfus was called up to imagine a set of light atmospheres for David Lynch's Parisian club Silencio, launched in the fall 2011, and has since started working with interior architect Peter Marino, and crafted unique light-pieces for some of his high-flung projects. A photographer at heart, Thierry Dreyfus is constantly tracking and recording light moods, convinced that "Light doesn't have words. It does not speak intellectually. It is all about emotion".
His meticulous exploration of light phenomena lead to a commission by British magazine Wallpaper* to create a series of 10 covers for its November 2011 issue. Shot with a vintage Hasselblad, without using flash nor retouching devices, the series unveiled a wide range of luminous sets. Thierry Dreyfus is currently working on the first book of his photographs which will be published in November 2013 by the Editions du Regard.